1940s
John Fowler
Through the 1920s and into the 1930s John Fowler had developed his decorating skills at the London firm of Thornton Smith and then in the decoration studio of Peter Jones, where he learned techniques such as painting Chinoiserie wallpaper by hand. By the time Sibyl Colefax invited him to join her he had been working for a few years under his own name from premises on the King's Road. Lady Colefax's business provided John Fowler with the introductions he needed and the partnership prospered. His talent for creating glamorous interiors on a comparatively modest budget was to prove a sought-after ability in due course, in post-war austerity Britain.
At the beginning of 1944, Sibyl Colefax & John Fowler Ltd moved its business to 39 Brook Street (once the home and office of distinguished early 19th century architect, Sir Jeffry Wyatville). On the day the new shop opened, John Fowler noted in his diary: 'Lovely day and lots of people. Good sales'.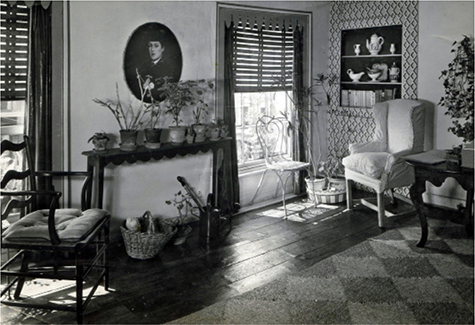 Fowler's decorative flair and scholarly eye were behind the company's continuing success and its reputation for beautifully fashioned draperies, convivial and comfortable seating arrangements. A sense of relaxed elegance grew. He later went on to work with the National Trust, conserving Great Britain's most important historical houses; significant commissions included Clandon Park, Lyme Park, Sudbury Hall, Claydon House and Uppark House. His exceptional skills prompted his friend the late Duchess of Devonshire to describe John Fowler as 'the prince of decorators', a sobriquet that stuck.